How would you respond if you called a company's customer service department and the agent told you to send an email to another customer service group and someone should be able to help you out? Â Pretty frustrated, right? Â Well, you see that type of response frequently by companies on their social networking sites.
It happens because sites like Facebook and Twitter are often under the domain of an organization's marketing or public relations department and there isn't sufficient coordination with the customer support group.  The problem is that your customers have and will increasingly turn to websites like Twitter or Facebook to air grievances and seek resolution.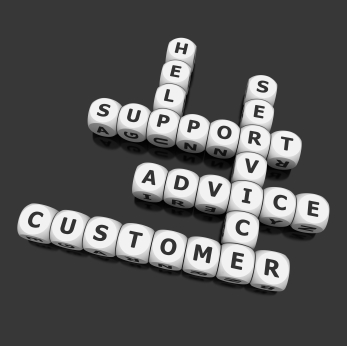 Your customers don't care which department is responsible for "social media oversight" or your organizational structure.  When they tweet you or post a comment on your Facebook page, they expect the same type of results (if not better and faster) as if they picked-up the phone and dialed your phone center (or emailed or contacted you via online chat).
Given the public nature of social websites, prompt and effective customer service on Facebook, Twitter and the like is extremely important. Â Not only should you want to take care of your customer, but because your response is seen by prospects, other customers, vendors, and partners, it also impacts your brand.
Here are a few tips to help provide excellent customer support on social websites like Twitter and Facebook:
Understand that even if you don't have a Twitter profile or Facebook fan page for your company, your customers will still voice complaints about your organization on those sites and you need to be prepared to react.
Develop a process to handle customer service issues that are communicated via sites like Facebook and Twitter. Â Include all relevant groups within your organization and make sure that you treat the posted complaint like an email, phone call, or chat – in others words, be proactive in contacting the person who originated the issue and be ready to help them.
Have social monitoring in place so that you can respond quickly to issues. Â If you are still developing your process, you can use social monitoring to get a sense of how many issues you might encounter on a daily or weekly basis.
Don't forget that social media time (especially Twitter time) elapses at a much quicker pace. Â Just like 1 human year equals 7 dog years, 1 real world hour equals something more like 7 twitter hours. Â Responding in 48 hours isn't seen as being prompt in the social media realm.
Be strategic about when you communicate publicly and privately. Â Not all communication with the customer needs to happen via public comments. Â The initial contact should be public so that others are seeing you are being responsive but often the follow-up (getting specifics, etc.) is better done via email, phone calls, or direct messaging.
Even though we live in a digital world, sometimes the best way to diffuse a situation is by talking the disgruntled customer over the phone. Â The extra effort can go a long way and is usually appreciated by the customer.
Make sure there is some process to provide a summary report of complaints and issues back through the organization. The best way to handle customer problems is to prevent them in the first place and complaints and reported issues should be valuable feedback to sales, marketing, engineering, research and development and product development.
Be transparent! Â Don't, and I mean never, try to diffuse a situation or defend your company through a response where you pretend or give the allusion that you are just another customer or unbiased community member.
Don't think that only 'big' companies need to worry about customer support on the social media sites. Â People use the web do research on all types of companies (big and small, national and local).
Obviously, don't forget that anything you post publicly can be viewed by everyone. Â Think about how your response will be perceived by others – don't be dismissive or defensive.
Is there anything that I missed? Â What suggestions do you have for companies to be successful in addressing customer service issues via websites Twitter and Facebook?